Saturday morning Katie was regretting eating lettuce. At lunch we had shrimp soup and then I regretted eating anything that had purple beading little eyes staring at me. We knitted. Katie and I laid in be wondering why we were eating stuff.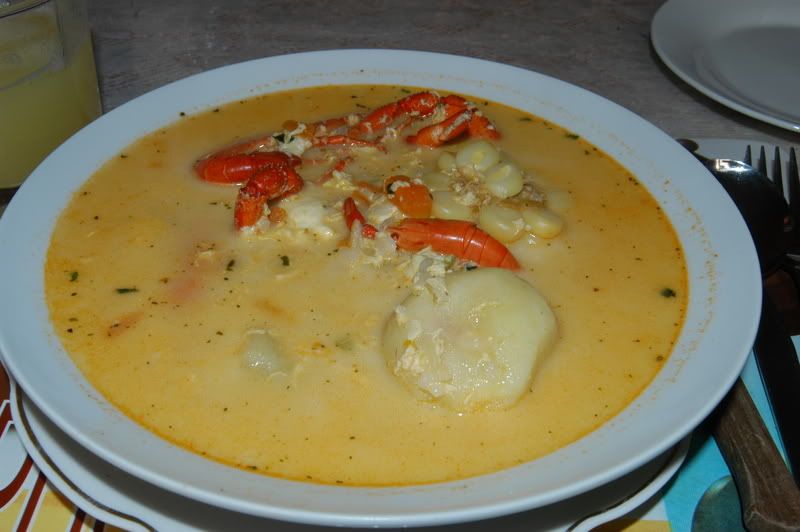 We went and had lunch in which we ate a lot of bits of cow, Udder, Stomachs, and heart. The heart was really really tasty, the udder was chewy and well I grew up in So. Cal so I know better. Then we went and had local chicken it was good. We went to the movies and saw Images which I spent most of the movie with my eyes closed they had these really good candied nuts.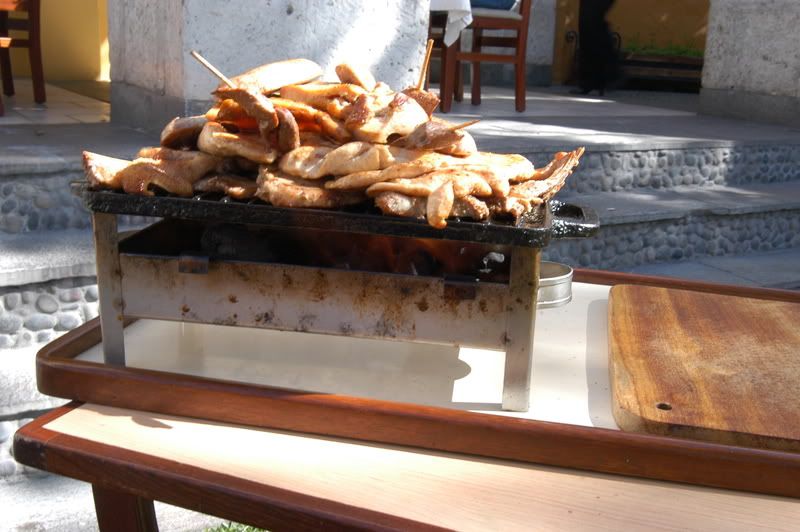 this is the hudge meat. this is cows heart
This is the chicken place we had.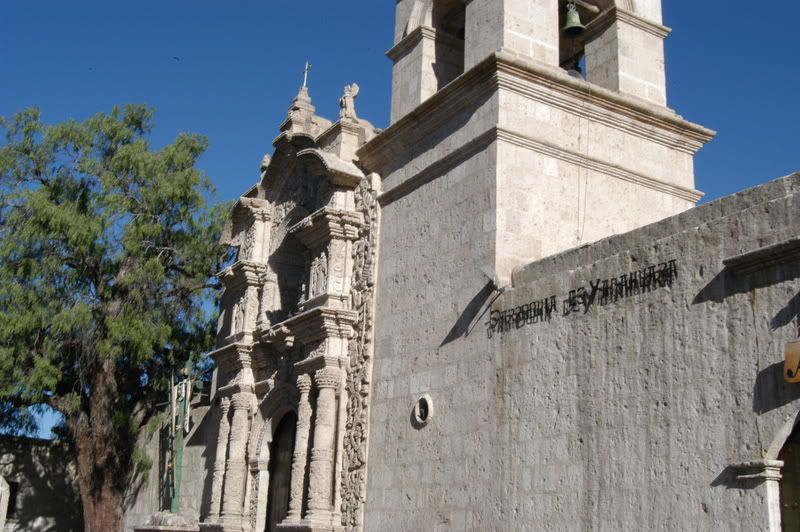 Church we saw on the way home
Monday morning we went to work and got stuff ready for the workshop. We then went IPAC for the launch of their new web site. Here we learned that it is important to give the media lots of good food and alcohol. While we were listening to the presentation they came around with lots of pisco sours, which were so strong smell something close to a bottle of rubbing alcohol, two more later, some food that were some fried egg roll type thing with sea urchin and scallops, tamales and bacon wrapped chicken stuffed with cheese We were also the focus as the media, because we were Americas and my blonde hair is a target hat sticks us out. we went to Mitchell for yarn but they were closed.
We then came home and had a lunch where there was no room for lunch.
In the afternoon Katie went with Miguel to buy clothes for the photo shoot.
I went with the manger to find knitting needles and stuff for the workshop. When he told me to leave my purse at home, because it was a rough area and that I stand out we figured it was going to be interesting .The first knitting store we went to didn't have circulars and people we staring.... funny. On the street too. Then the second store we went to kind of over charged us partly because of me most likely. The second one was better, but a hand knitters dream lies not in Peru knitting stores they are cramped and crowed and filled with acrylic ( unless you like that sort of thing).
We then went to an office supply store to get all the stuff for the workshop. This was interesting as we have to buy in a minim of three, and we over analyze things. Part ways through all this everyone started to realize I was America and "tried" talking to me and kept asking Cleaver to ask me what certain things are and how you say " I don't love you anymore in Spanish".Nice then when there were about 7 ladies waiting n us we decided we should go home.
We came home and had dinner, ( mine included honey bread). We then went shopping and got cookies, and biscuits, Coca cookies, pear juice, interesting jams. Now Kaites and I are working on knitting.